Worldwide Airfreight
As a leading air freight specialist, our air freight division has long term ties with all the major airlines to ensure the most competitive air freight services for all our customers. Our handpicked partners situated in every major city across the world have been selected for excellence in their fields, furthermore ensuring the best rates inbound into Thailand also. The experience that our staff boast in the air freight field over the decades has succeeded in gaining our client's confidence, guaranteeing their freight reach it's destination in a timely and reliable manner, no matter where.
Certified IATA Agent
Suvarnabhumi Airport Office located next to Cargo Terminal
Worldwide partners in over 100 major cities
Consolidated export and import airfreight rates
Export and import customs brokerage for air freight
Representing agent for all the major airlines
Personal Effects services
Dangerous Goods services
Perishable services
Door to door delivery services
Air-Sea/Sea-Air Services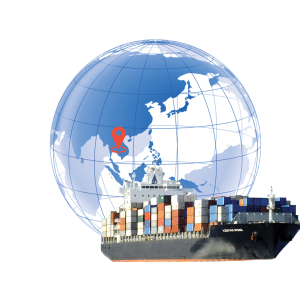 Worldwide SeaFreight
As a single source vendor for all your logistical needs, Siam Kargo is able to handle your ocean freight from any corner of the globe. Handling both freehand and nominated cargo, no matter the volume or the destination, our company has the resources. The complex and sometimes overwhelming nature of shipping via ocean freight is made easy by our staff who over the years have established relationships and contracts with all the top shipping lines in order to guarantee our customers the best rates.
Global contract rates for sea export and import
FCL container service (20", 40", 40HQ")
LCL service
Reefer service
Container Haulage
Project Cargo
High Volume Cargo
Sea to Air Management
Export and import customs brokerage
Door to door delivery services
Personal Effects services
Perishable services
Certified Fiata and Tiffa agent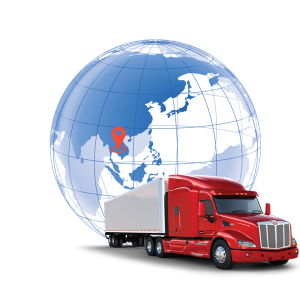 Inland Transport
In the globalised world it is important to be able to have the opportunity to select from a variety of multi-modal transportation choices. Inland trucking presents a further option for customers looking for an alternative logistical solution to their freight forwarding. Our fleet of a range of transport vehicles eradicates domestic and national border boundaries, with the option of transporting via container haulage also. Offering an alternative mode of transport to your supply chain, our staff look forward to discussing any enquiries you may have.
4 cbm, 12 cbm, 30 cbm trucks
Domestic inland transport across Thailand
Road feeder service to Myanmar and Indo-China
Inland transport to all Thai air and sea ports
Consultations
Supply chain management
Container haulage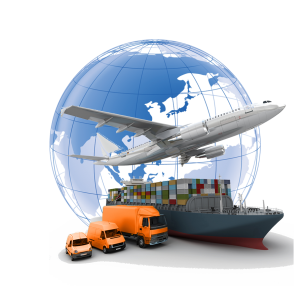 Customs Brokerage
Originally founded in 1986 as "S.K. Shipping Co.,Ltd." to provide customs brokerage to clients, Siam Kargo Logistics has a long history in mastering this particularly technical service. Our certified and trained staff, continue to work as they did in 1986, consulting and advising all customers on customs solutions and documentation. The range of commodities now being exported out of and imported into Thailand determines that there are also a range of rules and regulations to be adhered to also. Our qualified and skilled staff, remain on stand-by for any export/import customs brokerage enquiries you may have.
Export and import customs brokerage
Air freight and sea freight customs brokerage
Electronic customs clearance network
Brokerage for perishables and dangerous goods available
Document processing and proofing
Able to work according to strict time restrictions
Distribution and transport services available
Consultations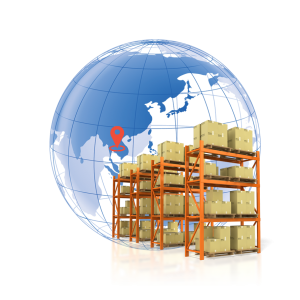 Storage and Warehousing
Located adjacent to Bangkok's Suvarnabhumi airport, Siam Kargo Logistic's 4,000sqm warehouse serves as a fully equipped storage facility for all our customer's needs. Implemented with the most secure and up to date technology and manned 24/7, our warehouse provides the perfect answer your storage dilemma in it's location by the airport in contrast to the high storage fees that can be found inside the airport terminal.
Fully secured facility with maximum alarm and 24/7 hours surveillance
Maximum insurance coverage
Precise data capture and sorting
Flexible operation modes
Weighting, grouping as well as labeling by skillful staffs
Loading and Unloading Platform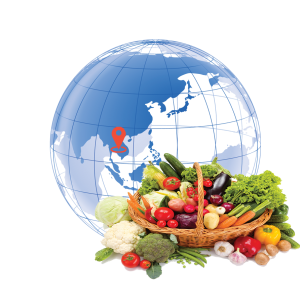 Worldwide Perishable Service
Perishable exports are one of Thailand's principle commodities. The vast range of fruit and vegetables that the country produces is sent far and wide across the world with Siam Kargo Logistics leading the perishable logistics field. Our long history in partnership with the premier exporters in the country and membership of the Thai fruit and vegetable association of Thailand, determines we have the expertise to ensure that your export or import of perishables is a smooth process. Understanding the difficult formalities and time restrictions that are involved in shipping perishables, we provide the assurance you need when forwarding such a sensitive product.
Air export and import of perishables
Sea export and import of perishables
Long history in perishable handling, ensuring the best rates
Member of the Thai fruit and vegetable association
Customs brokerage for perishables
Perishable freight forwarding consultations
Partners in all major cities worldwide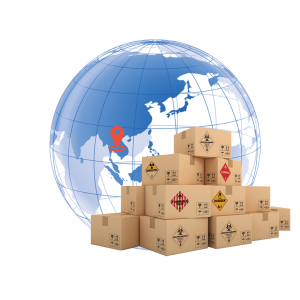 Dangerous Goods
Offering a unique service to our customers, Siam Kargo Logistics is proud to present it's own dedicated dangerous goods department. Our trained and certified staff, work in partnership with our customers for the sometimes difficult process of customs brokerage and handling of such goods. The varying classes of dangerous goods can often seem daunting, particularly when such goods are only for household usage. Our team will be happy to answer any enquiries you may have for export or import of such items.
Certified and trained staff in dangerous goods handling
Global coverage
Air export and import of dangerous goods
Sea export and import of dangerous goods
Air and sea dangerous goods customs brokerage
Consultation
Document completion and certification
Packaging and labeling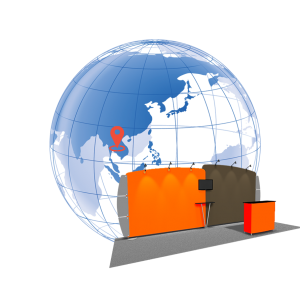 Exhibition
With our own Exhibition department, Siam Kargo Logistics is able to offer customers a tailored package of services to facilitate the volume and intricacies of such project cargo. Exhibition packages provide customers with a priority service, ensuring that their goods are transported to their destination in a smooth and timely manner. Our worldwide air and sea freight coverage and global partners, determines that we are able to transport your exhibition goods to anywhere in the world direct from supplier door to booth.
Exhibition services via air and sea
Exhibition services for both export and import
Door to door delivery services
Consolidation
Priority services
Logistics provider to Australian International Sourcing Fair 2010